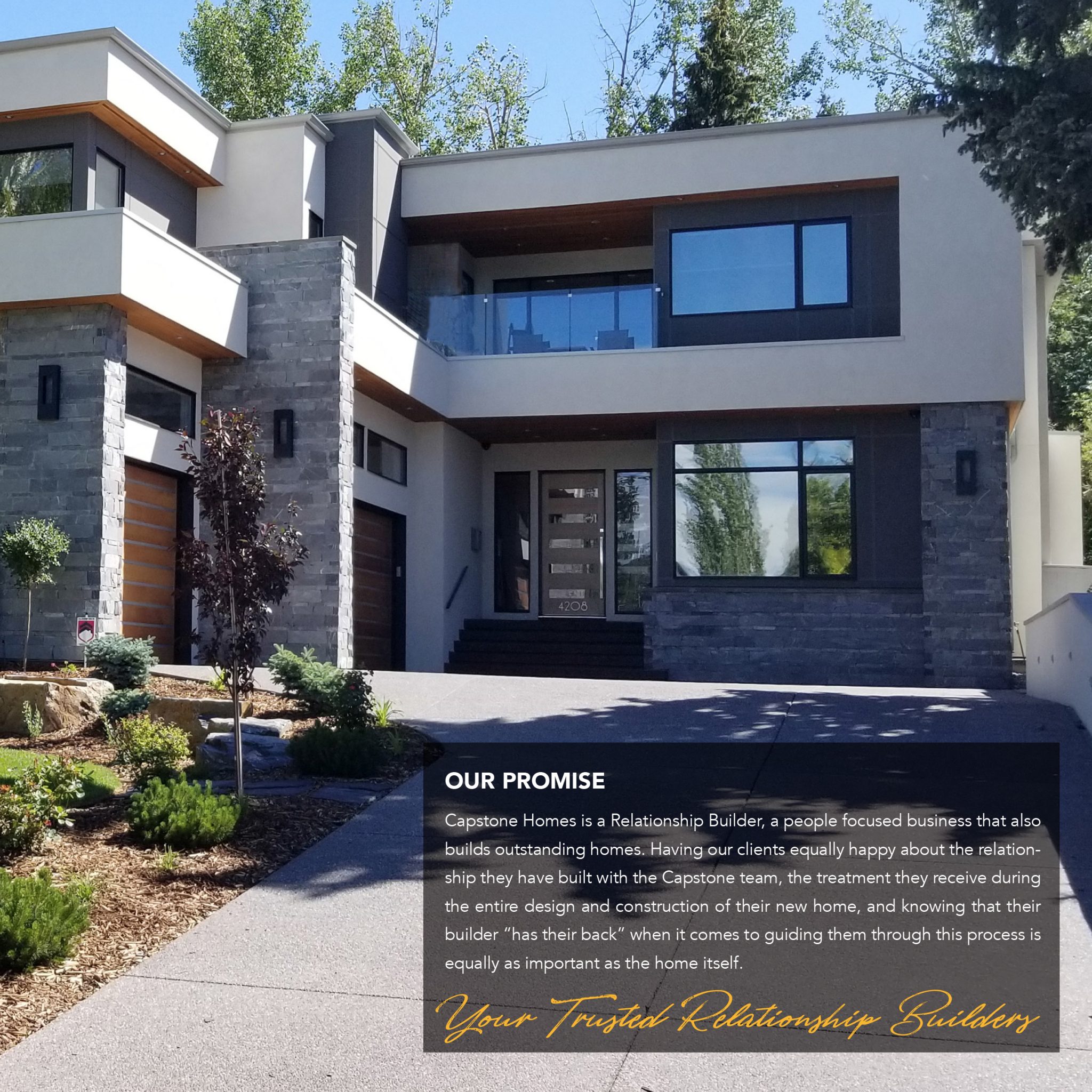 REDEFINING CUSTOM
Building a custom home begins with a dream- your dream! It's an exciting journey that is both personal and life changing. Understanding your needs and vision for your custom dream home is paramount to a successful build. A reputable builder will take the time to understand you and what you are wanting to achieve, as well as explain the building process, financing, project management and expectations. This is the first step in turning your dream into reality.
Location, Location, Location
Your dream home location is important and whether you own land already or are looking for the perfect location, ensure the builder can assist you with whatever your needs might be. Experienced builders are familiar with bylaws and architectural requirements for inner-city, acreage and new community developments and will offer insight on the various details required from demolition of an existing home, asbestos remediation, tree removal, well and septic requirements, and the many other complexities that come with building a custom home.
Design
Learning more about you, how you live your life, what is important to you, the builder will work with you to bring your vision to life. Do they offer in-house architect services? Do you have your own plans? or want to work with an independent architect or architectural designer? A reputable builder will connect you with some of the best in the industry. Having a builder engaged early in the design process is crucial in keeping the budget in check, as they can easily provide costs associated with design elements beyond construction.
Quote Presentation
Perhaps a once-in-a-lifetime financial investment, you want to ensure your builder values that investment, as well. Take the time to create a detailed budget with your completed design and custom specification. It should include all costs associated with the build, from sitework and foundation to painting and countertops. Your builder will thoroughly review this with you so that you understand the cost of your home, and the value and quality you will receive from your investment.
Contract
A detailed agreement will be presented and reviewed in detail. An overview of the permits required for construction is reviewed, but can include the following:
A demolition permit is required if there is an existing home on the property.
A development permit is required to ensure the development meets the Land Use Bylaw requirements of the city.
A building permit is required to address the construction and safety issues of the structure. It gives authorization to erect, demolish, relocate, alter, repair or change the use or occupancy of the space.
Your Vision Continued
Hardwood or tile, pot lights or fixtures, granite or quartz, blue or brown? This is all about you and YOUR vision for your dream home. Some builders have an in-house team to guide you through the selections or if life is too busy, offer a tailored approach that works for you and your schedule. Do you have your own interior designer? An experienced builder will easily accommodate and collaborate to realize your vision.
Building Your Home
Now your vision starts to take shape. Your builders' team of experts and trusted trade partners are dedicated to bringing your dream home to life. They will take care of all the details, update you on schedule and budget, so that you can rest assured your investment is well taken care of. Some builders have scheduled visits during construction, while others including Capstone, invite you to enjoy your home anytime, adhering to site safety rules and regulations.
Service & Warranty
You should love your home long after you receive the keys, and a builder's service and warranty program are set up to make sure every detail is in working order and complete to your satisfaction. There are various warranty providers, but the New Home Buyer Protection Act ensures every builder must include a one-year builder warranty on labor and materials, two-year on delivery and distribution systems, five-year on the building envelope and ten-year on major structural elements.
At Capstone Custom Homes, our commitment is to be your trusted builder who will be transparent and accountable to the entire process from our relationship with you the client to our expertise in architectural design, budgeting, selection and construction through to service and warranty after possession.
Building a custom home starts with a conversation and getting in touch is easy. Contact us today!