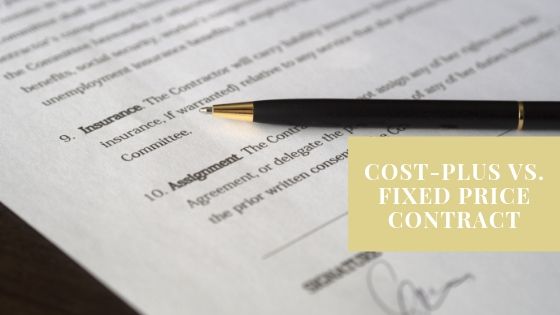 COST-PLUS VS. FIXED PRICE CONTRACT
Fixed Rate or Cost-Plus ?
Building a Custom Home is often one of the biggest decisions in your family's life, but ultimately you want to work with a Calgary home builder that you like and trust. Builders typically charge in one of two ways: Fixed Rate or Cost-plus estimate. It's important to decide which works best for you, but here is the breakdown on each model.
Fixed Rate: A fixed price agreed upon by the homeowner and builder by way of Purchase Agreement. The builder assumes any risk should the price of materials, labor or material shortages increase over the course of constructing your home, but the fixed price usually includes a contingency or premium markup of their estimated costs within the agreement to allow for such increases. The homeowner may not be getting the best price under such an agreement; however, that is the trade-off required for the security of cost certainty.
Cost Plus: The cost to build your home plus a percentage paid to the builder for managing the construction. Cost Plus can also include an administration fee to cover expenses that you wouldn't necessarily receive an invoice for.
The benefit of a cost-plus contract is the level of transparency required, as the homeowner is paying the actual cost for the work and materials. A reputable builder will provide detailed invoices direct from the trade or supplier, without a markup, not on their builder invoice, so you know the true costs associated with the project. The homeowner benefits directly from any discounts that the contractor may receive from its sub-trades and material suppliers.
With a cost-plus contract, and a truly transparent builder, there should be no inflation of costs like sometimes occurs in fixed price contracts where the contractor overestimates costs in order to protect against the costs eating up all the profit.
The client does accept the risk, should the price of materials increase over the course of construction and sadly, there are builders that will give you a very low cost per square foot estimate and low management fee in advance to try and win your business, but it is almost guaranteed that these prices will be drastically revised as building gets underway. Known in the industry as "unforeseen site conditions", but you know the old saying "If it's too good to be true, it probably is" therefore, it's vitally important to understand how cost plus works and how truly transparent the builder is.
In the Custom world, you can't compare two homes, and therefore, it is very difficult to provide an accurate cost per square foot unless the homes you are comparing have the same square footage, the same features, materials and finishes. Inexpensive materials and appliances, for example will lead to a low cost per square foot. High end, luxury materials will obviously be more expensive. That is precisely why a reputable builder will guide you through their detailed specification to accurately budget your total home costs.
Rather than evaluating Calgary home builders on cost per square foot guesstimates, perhaps consider the following:
Do you like the quality of construction of previous homes they have built? Have you reviewed their specification in detail? How do they build homes differently than other builders?
Do they have positive reviews or testimonials on their website or direct from previous clients they are willing to share?
Can you inspect a current home under construction?
Do you like the owner and your project manager? Do you trust them?
How often can you visit your home while under construction?
What warranty coverage do they offer?
At Capstone, we know that building a home is a financial investment that is both personal and life changing. We do not take this fact lightly and value your decision to invest with us. Our focus is on building quality custom homes and trusted relationships and this is something we live and breathe every day.
Considering a new custom build, but not sure where to start or who to trust? Let us help you compare "apples to apples." It all starts with a conversation and getting in touch is easy. Contact us today! info@capstonehomes.ca or 403-457-1157.